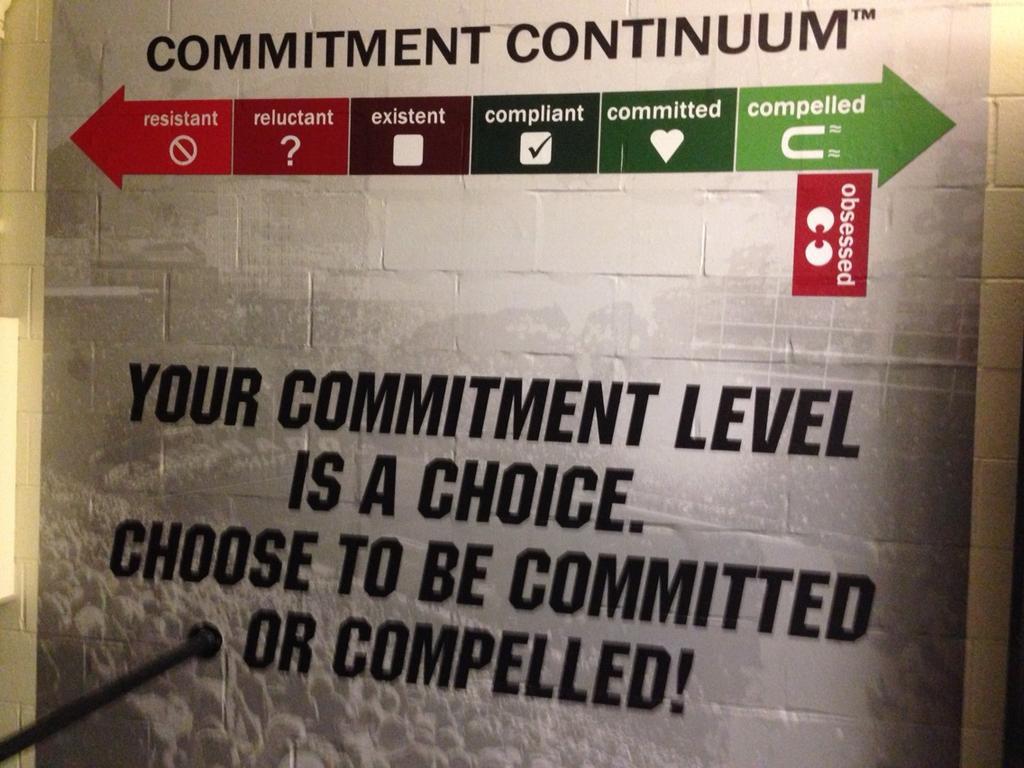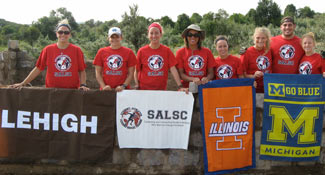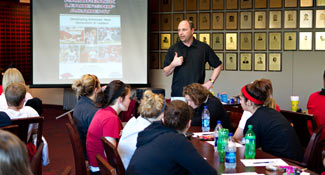 How to Endorse and Enforce a Championship Culture
by Jeff Janssen, Janssen Sports Leadership Center
You and your team leaders play a critical role in building and sustaining a Championship Culture in your program. Championship Cultures are built around having a Clear and Compelling Vision, strong Core Values, and high Standards of Behavior.
To create a Championship Culture, both captains and coaches must collectively do four things well on an ongoing and consistent basis:
Establish a set of Championship Standards
Embody a set of Championship Standards
Endorse a set of Championship Standards
Enforce a set of Championship Standards
While establishing and embodying your team's Standards is critical to develop a Championship Culture on the front end, you also must sustain the high Standards throughout the course of the season. The best way to sustain them is to develop a collaborative and consistent approach to endorsing and enforcing your team Standards.
Since many team leaders struggle to hold their teammates accountable, this blog post is a great one to share with your captains because it provides a practical and proven framework for them to effectively endorse and enforce your team Standards.
How to Endorse and Enforce Your Team's Standards
As a team leader, your endorsement and enforcement of your team's Standards goes a long way to create and sustain the kind of culture you want to have in your program. As outlined in our new Team Captain's Culture Manual, I have created the How to Enforce and Endorse Your Team's Standards framework (above) to help captains understand how to best endorse and enforce the various actions and attitudes of their teammates.
When You See Exemplary Behavior -> Celebrate It!
When a teammate far exceeds your team's Standards the best way to appreciate it is to celebrate it. Make a big deal of it verbally with the individual and also endorse this Exemplary behavior in front of the rest of the team. You might even acknowledge it in some tangible way with some award or extra privilege to drive home the point that this culture-building behavior is the perfect example of what you are looking for in your culture and is highly appreciated by you and the team.
"THAT'S ABSOLUTELY AMAZING!!!"
When You See Commendable Behavior -> Compliment It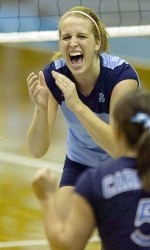 When a teammate surpasses your team's Standards be sure to call it out and compliment it. Don't let this moment to acknowledge a teammate pass you by. Hustle over to them and pat them on the back or give them a well-deserved high five. Or give them a verbal shout out for their efforts.
Your recognition of this Commendable behavior not only rewards your teammate in the moment but also reminds everyone else that this extra effort and level of performance benefits your entire team.
"Great job!"
When You See Acceptable Behavior -> Communicate It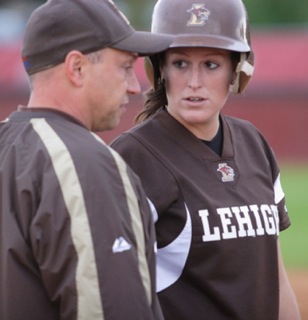 When your teammates meet your team's Standards you want to communicate that they have hit the mark. This affirms that they have achieved what is necessary to get the job done. Additionally, you also may want to encourage them to see if they can improve or enhance it the next time around. Striving to meet and then exceed past performance Standards is the hallmark of true competitors and is great way to continually build and upgrade your team's culture.
"You did it… let's see if we can take it to an even higher level next time."
When You See Borderline Behavior -> Challenge, Clarify, and Coach It
When a teammate dips into Borderline behavior you want to quickly nip it in the bud by challenging, clarifying, and coaching it. Catch and challenge it early because it is a lot easier to turn around Borderline behavior than it is to address Unacceptable and Nonnegotiable behavior. A simple reminder of your team's expectations clarifies the Standard and lets them know that they are flirting dangerously with falling below it. Coach them on what they need to do to at least meet and hopefully exceed the Standard. And let them know you are there to help as well as hold them accountable to it for their own good and the welfare of the team.
"You're pushing it, let's step it up. Here's how you can."
When You See Unacceptable Behavior -> Confront It
As a team leader you must quickly confront any Unacceptable behavior in a firm, fair, and direct manner. Pull the person and aside and let them know in a serious yet caring way that their Unacceptable behavior falls below your team's important and agreed upon Standards.
As a team leader, clearly communicate that this problematic behavior will not be tolerated by you or the rest of the team. Let them know that you expect and demand more from them and that their inappropriate behavior needs to get back up to the Acceptable level quickly.
If they don't act in at least an Acceptable way, they hurt themselves and the team and punishment and sanctions may be in order. Repeated Unacceptable behavior necessitates the coaches' involvement as well.
"That's not how we do things in our program. This is what we expect."
When You See Nonnegotiable Behavior -> Crush It!
Nonnegotiable behavior must be crushed immediately!!! Ideally, you can crush the thought of nonnegotiable behavior even before it happens. However, if it has already happened, the behavior unquestionably goes against your team's sacred Standards and seriously jeopardizes your team's success and reputation.
This Nonnegotiable behavior must be crushed in no uncertain terms - both for the offender as well as sending a message to the rest of the team that this culture-killing behavior is intolerable. You will very likely need to involve your coach whenever a teammate violates one of your Nonnegotiables.
"NEVER EVER DO THAT as it could get you kicked out of our program!"
Remember that holding teammates accountable is not something you are doing to them, you are doing it for them and more so for the rest of the team to preserve your team's Standards of Behavior and all-important culture. Most likely some severe sanctions like a suspension are in order when Nonnegotiable behavior happens as well as the possibility of elimination from the team.
Remind people that your team's high Standards are necessary because they align with your Values and give your program the best chance of achieving your team's Vision. As a team leader, it is critical that you help hold people accountable to the Standard set and agreed upon by the rest of the team. Obviously, this also means holding yourself accountable to the Standard and acting in Commendable and Exemplary ways whenever possible.
Finally, your coach is the last line of defense in preserving your team's Standards and culture. Your coach must have your back when you appropriately hold people accountable to the Standards. If they don't, they will undercut your authority, damage your credibility, and disable the culture of your team. So be sure to communicate and work with them to endorse and enforce the kind of Championship Culture you want in your program.
For more info on how to create a Championship Culture by Enforcing and Endorsing your team's Standards, check out our How to Build and Sustain a Championship Culture book for coaches and the new companion workbook for captains called The Team Captain's Culture Manual.