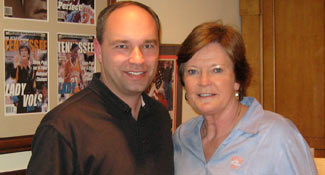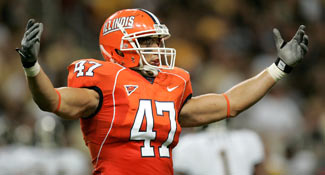 9 Leadership Lessons from the Baddour Carolina Leadership Academy
by Jeff Janssen, Janssen Sports Leadership Center
As the respected "Granddaddy of the them all," the Baddour Carolina Leadership Academy has over a decade of experience developing Carolina's next generation of leaders. Named in honor of UNC athletic director emeritus Dick Baddour, here are 9 cutting edge Leadership Lessons from UNC that you can use with your team:
1. Create a Culture of Accountability with the Commitment Continuum™
Carolina football coach Larry Fedora uses my Commitment Continuum™ concept to create a strong Culture of Accountability within his program. He says, "If accountability is a problem on your team, then you definitely need to implement the Commitment Continuum™. It's made a big difference with our football team. Guys are motivated to do things the right way because our guys now know they are accountable to each other."
At the conclusion of various segments of the year (spring practice, summer training, preseason, etc.), Coach Fedora and his staff discuss and evaluate the commitment level of each player during the previous segment using our Commitment Continuum™. Based on their evaluations, they post a sign with one of the seven Commitment Continuum™ levels on each player's locker. Not only does this process hold each athlete accountable to their commitment level on a regular basis, it provides each player with clear feedback on their commitment as viewed by the coaches. This public display of each player's commitment level is obviously a very overt way of communicating the importance of commitment.
If you like this idea, I would highly recommend starting your first phase by putting up positive signs of "Committed" and "Compelled" for those athletes who have displayed strong and exemplary commitment - but not putting up the other signs of Resistant - Compliant. This first phase not only rewards those who demonstrate high commitment, but also sends a message to the others that they are not in the preferred commitment levels, without needing to use the Resistant and Reluctant labels. As you progress to other phases of your training, you can then consider posting any of the other five levels that players might have earned. The phasing in process gives your team ample time to realize that their commitment levels may be posted in the future.
How do you create a Culture of Accountability and Commitment within your program?
2. Anson Dorrance's Competitive Cauldron
As the chief architect of an astounding 22 National Championships and counting, legendary UNC women's soccer coach Anson Dorrance has taught me more about leadership, culture, and competitiveness than any other coach I know. Anson does so many cutting edge things with his program that he even trains his managers on leadership as you'll see later on in this post.
One of my favorite things Anson does is his famous Competitive Cauldron, which was originated by Tar Heel basketball coach Dean Smith and expanded and perfected by Anson. The goal of the Competitive Cauldron is to consciously create a highly intense practice and training environment that fosters the development of fierce, yet classy Competitors who not only hate to lose but also know how to win.
The Competitive Cauldron is a culture and training environment where competitiveness is intentionally cultivated, orchestrated, coached, posted, and celebrated. A variety of competitive concepts, drills, and challenges are regularly used within practices, scores are kept, outcomes are reported, accountability is paramount, status is accorded, losers are known, and winners are rewarded.
"If there is a defining aspect of UNC women's soccer, and its success, it is what we call the Competitive Cauldron. Together with team chemistry and our players' strong personal connection to one another, it is the pinnacle of our program," Anson says in my How to Develop Relentless Competitors book.
How do you consciously develop the important intangible of competitiveness with your athletes?
Click here for 11 Reasons why you should develop your own Competitive Cauldron.
3. Leader of Distinction Wall
As our special way of honoring the top leaders in the Leadership Academy, Carolina was the first school to develop a Leader of Distinction Wall. Not only does the Leader of Distinction Wall acknowledge and commemorate the best leaders for their important contributions to the athletic department, it also serves as terrific motivator and incentive for our emerging leaders who want to leave a lasting leadership legacy.
The prestigious Leader of Distinction honor is the highest award in the Leadership Academy and is earned by getting scores of 105 or above from teammates and coaches using our 360 Leadership Evaluation. Not only is each athlete honored with their name and picture on the wall, but they are ceremoniously inducted into the hall of fame by a teammate's speech about their leadership at our annual Leadership Banquet.
UNC Softball has a special wall in their team room where they too honor their Leaders of Distinction. Not only is it a great incentive for their current players, but it is great for recruits and their parents by showing them that they will not only develop as players but as leaders.
How do you honor and promote your team's and athletic department's top leaders?
4. Roy Williams Grades His Players After Every Game
Carolina men's basketball coach Roy Williams and his staff consider quality feedback to be essential to their players' and team's development. Within hours after the game, the entire staff sits down together to watch the game film. They examine each offensive and defensive possession in great detail. Defensively they record charges taken, deflections, boxouts, close outs, and a whole host of 37 subtle, yet important categories. Offensively they record the quality of screens a player sets, the times when a player loses the ball even when he doesn't turn it over, and tally passes that would have been assists had the player made the shot or was not fouled.
All of these in-depth stats create a ratio of positive plays to negative plays. This ratio then is also one of the categories that Carolina uses to provide feedback to their players. The players are given the information at the next team meeting following the game. Coach Williams wants the players to have the feedback when the game is still fresh in their minds. He fondly remembers a teacher he had growing up who always had the tests graded for them the next day of class - all in an effort to help the students effectively learn the material. He too feels he owes it to his players to provide them with timely feedback.
Click here to learn more about Coach Williams charting system and Awards Board.
How do you provide your athletes with quick and quality feedback on their performances so they too can effectively learn and improve?
For 5 more ideas from the Baddour Carolina Leadership Academy including ideas from UNC's national championship women's lacrosse, field hockey, and men's soccer teams, our Championship Coaches Network members can click here.