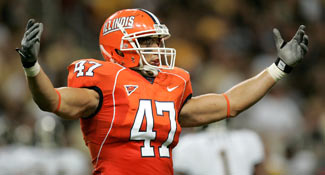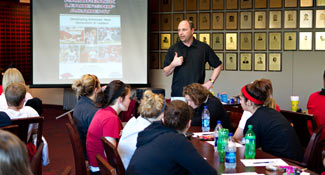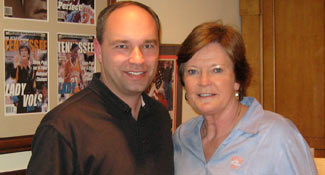 Testimonials from Top Coaches, Athletes and Administrators
Jeff Long, Inaugural College Football Playoff Committee Chairperson
"I've been in the business for over 30 years and there are a lot of different programs I've seen. What the Janssen Sports Leadership Center does is the best out there. It builds on itself. It is not a one-time seminar. You will see a change in student-athletes in terms of leadership on the field, in the classroom, and everywhere else."
Anson Dorrance, Legendary UNC Women's Soccer Coach, 22-time National Champions
"Jeff's programs have huge value and his resources are extraordinary. I have learned so many things from Jeff and so have my players and teams."
Mike Krzyzewski, Legendary Duke Men's Basketball Coach
"I loved Championship Team Building. It is obvious that Jeff has done a great deal of work on the subject of team building."
Kara Cannizzaro, Women's Lacrosse Honda Sports Award Winner, National Champion
"Not only did I grow up as an athlete but also as a person through Jeff's Leadership Academy. The Leadership Academy taught each participant how to better handle difficult situations and how to effectively communicate with teammates. Furthermore, the Leadership Academy allows athletes to have in-depth discussions with athletes from other teams fostering a championship mentality for all participants. Lessons I learned from Jeff not only made me a better leader on the field but also helped prepare me for the corporate world. Jeff's passion and spirit is unparalleled and he truly listens to every single athlete to help the situation at hand. I cannot describe how thankful I am for my experience with the Leadership Academy and I will continue to look to Jeff as a mentor."
CeCe Marizu, Former University of Illinois Swimmer Student-Athlete
"Jeff is an amazing motivator and a truly great listener. He challenged the student-athletes at the University of Illinois to become greater than they imagined, not just in their sport, but in life. He also encouraged us to give back to our local community and to be the selfless and courageous leaders that would impact our university, community, country, and the world. Jeff's passion and commitment to the Leadership Academy is indomitable. He has had an immeasurable impact on so many student-athletes lives. He's given many of us the confidence to succeed, the willingness to do more, and the commitment needed for life."
Kathy Kaler, Illinois Life Skills Director
"Jeff Janssen is the top expert on sports leadership at the collegiate level. He has truly inspired our student-athletes to set higher standards for themselves and their teams and has equipped them with the tools and confidence to be effective leaders. I simply cannot say enough about the work Jeff has done."
Dave Van Horn, Arkansas Baseball Coach
"The Razorback Leadership Academy continues to be an integral part of the growth and development of our program. The leadership principles outlined and the practical applications provided are extremely beneficial to our student-athletes and our entire coaching staff."
Andy Coen, Lehigh Football Coach
"Our football program has benefited significantly from our interaction with Julie Ammary and the Leadership program which she directs at Lehigh. I have seen the leadership on our team improve each year and it has made a positive impact on the culture of our football program."
Karen Adams, Lehigh Senior Associate Director of Athletics
"The Lehigh Athletics Leadership Academy is the highest rated student-athlete program." Karen Adams
"The Lehigh Athletics Leadership Academy is the highest rated student-athlete program offered to our athletes as documented by our senior athlete exit interview survey. It is valued by students in terms of developing their own leadership style and enhancing their team culture to accomplish their goals. Julie's approach is engaging, dynamic, and effective as noted by our students and coaches. There is an exciting "buzz" in our department about the program."
Jim Schaus, Commissioner, Southern Conference
"Jeff Janssen did an outstanding job leading a seminar with our coaches and support staff on building a championship culture. He was engaging, insightful and entertaining. It was a great investment in our sport programs and student-athletes. Our coaches loved him. I highly recommend him to anyone."

Pat Summitt, Legendary Tennessee Women's Basketball Coach, 8-time National Champions
"I have great admiration and respect for Jeff Janssen's work with coaches and student-athletes. His innovative ideas have made a difference in our program as well as many programs across the country. He has the unique ability to transform critical concepts like leadership, team building, and mental toughness into practical and easy to use strategies that can be implemented by coaches and athletes alike."